Empower is a financial tool that enables you to manage 100% of your finances from a single dashboard. Previously called Personal Capital, I've used the app for years. In this Empower review and user's guide, I'll walk through all of its features and how to leverage them to help you make the most of your money.
This article contains references to products from one or more of our advertisers. We may receive compensation when you click on links to those products. The opinions and views expressed, however, are our own.
Update
Personal Capital is now called Empower, and the free tool is now called the Empower Personal Dashboard. Nothing about the tool has changed, and it's still free.
Getting Started with Empower
The first step is to sign up for a free account. Then you want to connect all of your financial accounts. While Empower is perhaps best known for analyzing and tracking investments, I also connect all of my bank accounts, credit cards, loans, mortgage, and even my home. You can add your home and Empower will pull in the value from Zillow.
Linking Your Accounts
Over the years I've linked many of the following types of accounts to Empower:
Bank Accounts (checking, savings, CDs, money market accounts)
Retirement Accounts (401k, 403b, TSP, IRA, among others)
Non-Retirement Investment Accounts
HSA
Credit Cards
Mortgage
Student Loans
Personal Loans
You can link just about any financial account for which you have online access. You'll need your username and password for each account. To link an account, you'll search for the name of your financial institution in the "Link Your Account" dialog box on Empower (you get to it by clicking the "+" icon near the top left of the Dashboard):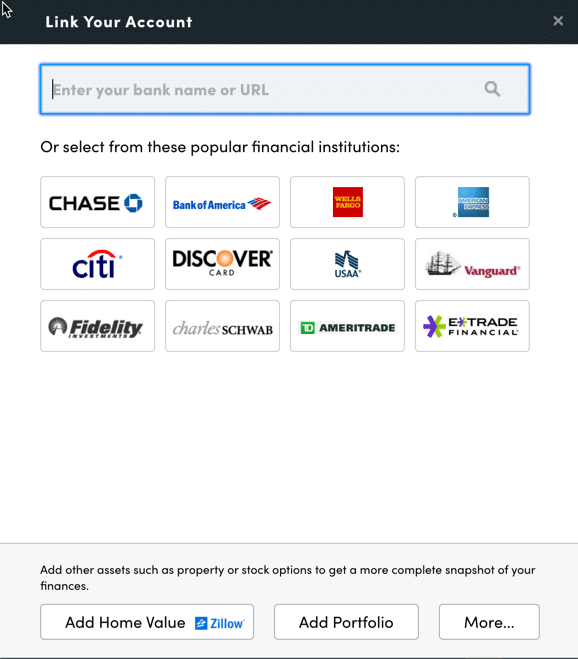 Tip: You can search by the name of your financial institution or by its website address (URL). In the unlikely event you have a financial account that can't be linked to Empower, you can enter it manually.
So why bother to connect all of your accounts? As you'll see below, Empower does a lot more than keep an eye on your investments. By connecting all of your financial accounts, you can track your net worth, budget, cash flow, and even your bills. And all of this information is pulled together in a Dashboard.
Settings & Profile
Once you've linked your accounts, it's critical that you complete your Settings and Profile. Both can be found by clicking on your name in the top right corner of the screen.
With Settings, you have control over email subscriptions (you can get daily or weekly updates of all your income, spending, and investments), whether to include investment income and dividends in cash flow (I do), and any accounts to exclude from the advice Empower offers (I don't exclude any).
Settings also include important security features. It's here that you can configure multi-factor authentication (highly recommended) and an alert anytime a login is attempted from a foreign country (also highly recommended).
Empower also shows you a list of the devices you've authorized to access your account and when the last sign-on from that device occurred. I'll often delete old devices I no longer use from this list.
The Profile is where you can set information about you and your spouse, your savings, income sources, and investment objectives. These are important settings that Empower uses in its planning tools, such as its free Retirement Planner.
Dashboard
Once you've linked all of your accounts, Empower aggregates it in the Dashboard. The Dashboard gives you a snapshot of your entire financial picture. Here's what the dashboard looks like: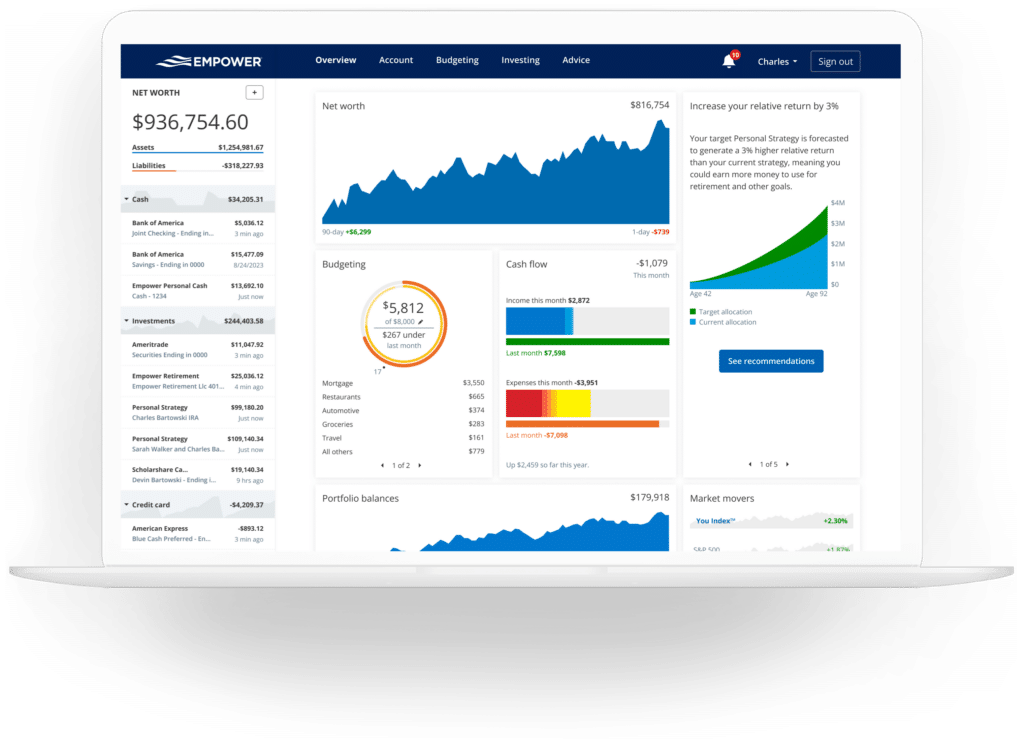 As you can see, it gives you a snapshot of your net worth, your monthly budget, your cash flow, your investments, and even where you are on your retirement and emergency savings goals.
Net Worth
There's nothing more important to your financial freedom than racking your net worth. While I'm a big believer in keeping tabs on it in a spreadsheet (which I've done for years), I also track it in Empower. If you connect all of your financial accounts, it's tracked automatically.
Here's what the Net Worth screen looks like in Empower:
Empower Banking
I'm surprised at how much I use the banking features of Empower. The primary features that I rely on are the Cash Flow and Budgeting functions. Specifically, the tool shows me how much investment income we generate each month (interest and dividends). The budget tool shows me how much we spent and on what by category.
Cash Flow
Cash flow shows both your income and expenses at a transaction level. Expenses are automatically categorized. You can easily drill down into income or expenses to look at the details.
You can also select which accounts to include in the report. I use this account selection feature to look at just my business expenses (I've connected by business checking and credit card accounts). I also use it to look at income just from my investment accounts. This allows me to quickly see all dividends and interest earned in my portfolio.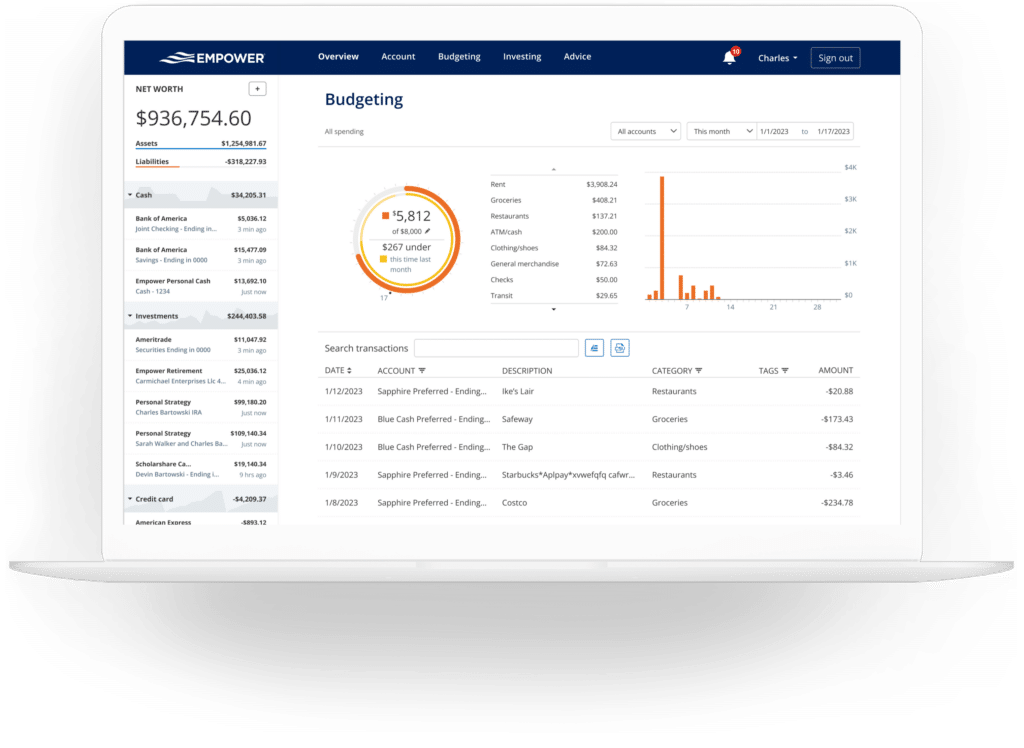 Budgeting
The budgeting feature is not a traditional budgeting app. You can set an overall monthly spending goal, but you can't set goals by category. If that's what you need, I highly recommend YNAB (You Need a Budget).
What Empower does well is give you visibility into how you've spent your money by category. It automatically imports all spending from each linked account and categorizes the spending. You can customize the categories. I've found Empower to do a reasonably good job of getting the categories right, although I do spend about 5 minutes a month correcting some transactions.
Tip: In addition to categories, you can tag transactions, too. I use a limited number of categories and then tag transactions as needed. For example, we have a home maintenance category. For work on our pool, I tag those transactions as "pool" so I can see how much we spend on the pool without the need to create a separate category.
Bills
The bills feature is another reason to link your credit cards, mortgage, and other loans. Empower keeps track of when bills are due with your linked accounts. This helps you avoid missed or late payments, and it helps with planning throughout the month.
Empower Investing
Here's where Empower really shines. Once you've connected your retirement and non-retirement accounts, it tracks your investments automatically. It updates prices throughout the trading day and keeps tabs on mutual fund expenses. It also shows you your asset allocation and offers a number of tools to help you evaluate your portfolio
Holdings
You get an overview of each of your holdings. The tool shows the following for each investment you own:
The name of each investment
Its ticker
How many shares you own
The current price
The days change (in both dollars and as a percentage)
The total value
It also gives you an overview of your performance. Here's mine in the middle of the 2020 bear market (Yikes!):
Allocation
Empower also shows you your asset allocation. It automatically evaluates your investments and reports on your stock/bond allocation. For each it breaks down asset classes further, showing U.S. and International stocks and bonds, as well as alternatives.
The tool also provides a useful interactive graphic representation of your portfolio allocation. With the click of a mouse, you can explore what investments make up each of these asset classes. One interesting item is cash. The asset allocation tool not only shows you the cash in say money market accounts, but it also sees the cash held by stock mutual funds.
Tracking Bitcoin & Crypto
In big news for those who invest in Bitcoin, Ethereum, Litecoin, and other cryptocurrencies, Empower can now track these investments. Best of all, investors do not need to grant access to their crypto wallets or turn over passwords.
Instead, investors can add a manual account in Empower. For each token owned, you simply indicate the symbol, exchange, and amount. Empower is now able to track thousands of tokens across hundreds of exchanges.
Empower Planning
So far the dashboard has simply shown you your accounts and investments from various perspectives. It's the planning tools that really take the tool to the next level.
Retirement Planner
Empower's retirement planner is both robust and easy to use. Because you've connected all of your investment accounts, Empower can use this data to determine your retirement readiness. The screenshot below shows you what the calculator looks like once you've linked your accounts.
There's a lot going on here, so let's break it down:
Profile: In the bottom right of the above screenshot is the "Edit Profile" button. It's here that you can set your marital status, tax filing status, your and your spouse's name and dates of birth, how much you each earn per year, and any children you have.
Assumptions: The "Edit Assumptions" button enables you to set an estimate of your effective tax rate, inflation rate, and your life expectancy.
Income Events: You can add ongoing or one-time income events. These may include your yearly savings, a planned sale of a business or other asset, pension income you'll receive in retirement, and even an estimate of your social security.
Spending Goals: Spending goals can include an estimate of your yearly spending in retirement as well as one-time expenses. For example, you could include the cost of a planned vacation in retirement or the cost of a future wedding for your children.
Retirement Score: Your retirement score shows a percentage representing the likelihood that your money will last through retirement. According to Empower, a score of 50% to 80% "suggests you are on track, but it is important to understand and acknowledge that the portfolio does deplete in a meaningful amount of the projected scenarios." A score above 90% means "there is relatively little to worry about and, most likely, you could afford greater spending now or it will be possible to increase spending over time."
Graph Views: The graph above shows the portfolio based on an analysis of thousands of potential market returns. You can also view your accounts by asset location (i.e., Taxable, Tax Deferred, and Tax Free.
The Retirement Planner also enables you to create multiple scenarios and then compare them. For example, one scenario may have you retiring at a traditional age, while another one has you retiring early. In one, you may include an estimate of social security, while in another one you exclude it. You could also change the assumptions on one scenario related to your effective tax rate, future inflation, or your life expectancy.
Once you've created a new scenario, you can then compare them side-by-side.
Savings Planner
The Savings Planner is three tools in one: Retirement Savings, Emergency Fund Savings, and Debt Paydown. Each enables you to set and track goals.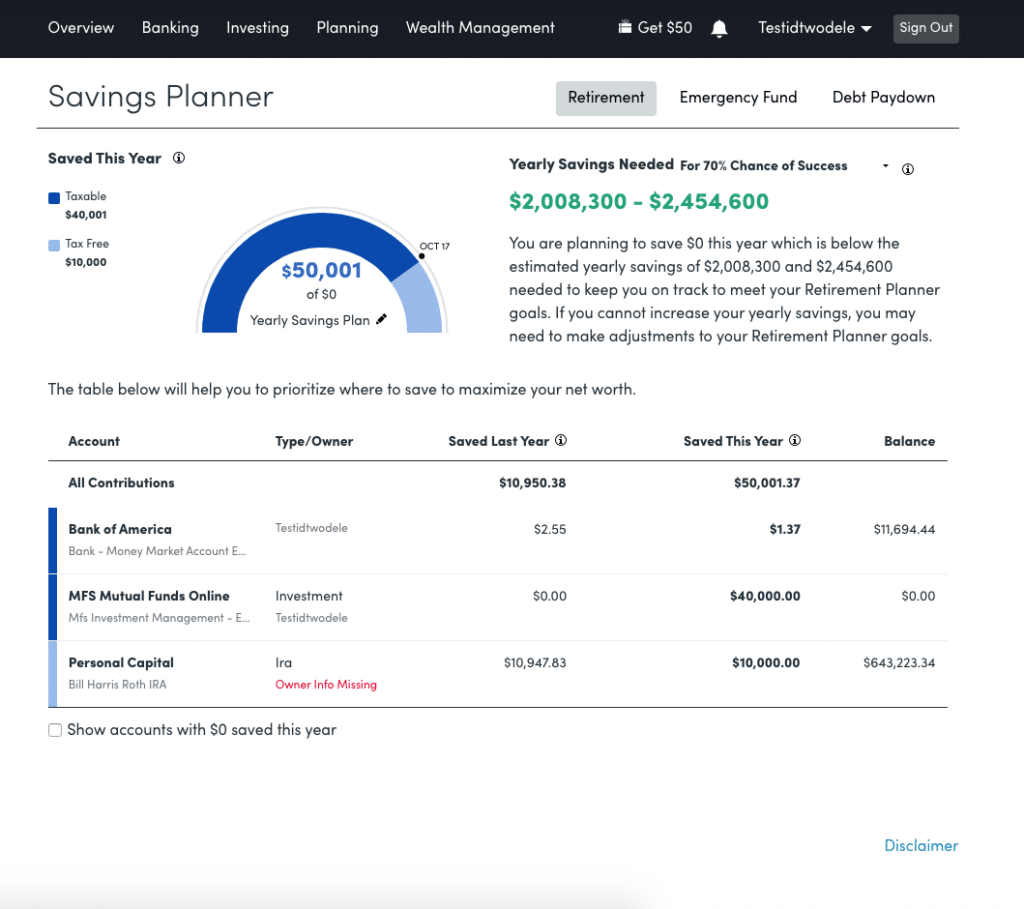 Retirement Savings Planner
Here you can set an annual retirement savings goal. The planner tracks your actual savings throughout the year, including your contributions to retirement accounts like 401k and IRAs. It will also track any savings you have in taxable accounts.
Keep in mind that this planner and your Retirement Planner are connected. If you change your savings goal in one, it automatically updates the other.
Emergency Fund Savings Planner
For the Emergency Fund, Empower totals the value of all of your linked bank accounts. It then recommends an Emergency Fund of 3 to 6 months' worth of expenses based on the budget amount that you set. As with the retirement planner, any changes in your monthly budgeted amount here automatically update your Budget in the Banking section of Empower.
Debt Paydown Planner
Any debts, including car loans, mortgages, and personal loans, will show up in the Debt Paydown planner. Note that credit card debt will also show up in the planner if there have been at least two interest transactions within the last 90 days. In other words, your credit cards will not show up here if you pay them off in full each month, thereby avoiding interest charges.
The planner will show each debt, along with its interest rate (APR), change in balance year to date, and current balance. It also displays a graph of the changes in debt balances in the current year.
Retirement Fee Analyzer
The retirement fee analyzer is, I must confess, my favorite part of Empower. It's easy to dismiss relatively "small" investment fees as unimportant. The problem, of course, is the effect fees have on your wealth over decades of time. A 1% advisor or mutual fund fee may seem small, but over time it can literally cost you hundreds of thousands of dollars.
Empower calculates a weighted average expense ratio for all of your linked accounts. Mine comes in at just 6 basis points–0.06%. That's well below the average, and yet it will still cost me $17,865 over the next seven years according to the Fee Analyzer!
Fees matter–a lot. This tool by itself makes Empower a must.
Investment Fee Checkup
The investment checkup evaluates your asset allocation and compares it to what Empower recommends. Based on your investment profile, Empower recommends an asset allocation. Here's what it recommends for me, given my age, years to retirement, and risk tolerance: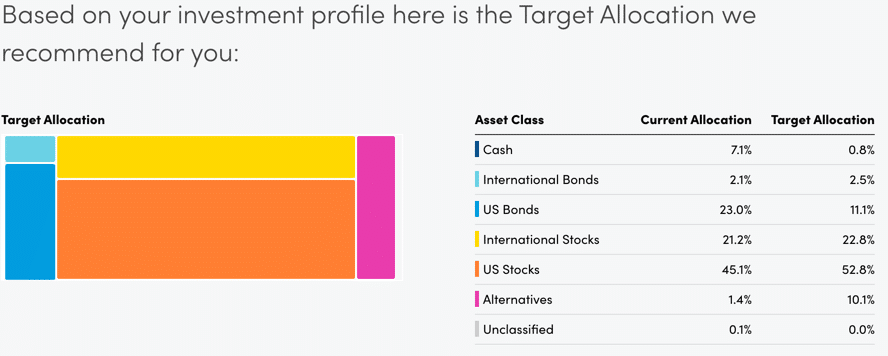 My actual allocation has about 5% more bonds than what the above graphic shows. What's interesting about this tool is that Empower also shows you the historical performance of its recommended portfolio, future projections, risk & return, and a comparison with your actual allocation.
If you want to follow the recommendation, Empower provides a listing of those asset classes that need to be increased or decreased and by how much.
Empower FAQs
Is Empower safe?
Yes. Empower encrypts data with AES-256 with multi-layer key management, including rotating user-specific keys and salts. Further, no individual at Empower has access to your credentials.
In addition, you must authenticate each device that accesses your account. You'll receive an automated phone call, email, or text message to confirm your identity.
Is Empower really free?
Yep. Its investment services are not, but its financial tools are completely free.
Will Empower call me?
Yes. They use the financial dashboard as a marketing tool. I've spoken with their advisors in the past, although I've never used the investment services. If you don't want them to call you, just tell them. They honored my request.
Do I have to invest with Empower to use the dashboard?
How much does Empower cost?
The financial dashboard is free. If you do want to use their investment advisory services, the fees start at 0.89% for the first $1 million and go down to 0.49% for amounts over $10 million.
Related: Best Financial Tools & Resources, Best Stock Tracking Apps, Best Quicken Alternatives, Best Mint Alternatives