ProjectionLab is a financial simulator that will help you work out the mechanics of financial planning. It enables you to enter your current financial profile and future projections, then determine when you'll reach your goals. But it does more than that. It allows you to change inputs and assumptions to account for contingencies and changes in life.
On balance, ProjectionLab is an excellent tool to help you reach your financial independence or retirement goal.
Since space is limited, and this product has so many different moving parts, I'm going to do this review in something more like a summary fashion. If you'd like a more detailed analysis of the ProjectionLab service, you can check out this YouTube video, ProjectionLab Review | Financial Planning Software.
ProjectionLab QuickTake
Crunches the numbers to help you reach retirement or financial independence
Flexible platform that enables you to run virtually unlimited scenarios
Accounts for the life variables that can have a material effect on your retirement plans
Focuses on both the accumulation and withdrawal of wealth in pursuing your financial goals
Realistic simulations and variables based on real world assumptions
About ProjectionLab
ProjectionLab is a financial planning simulator designed to help you analyze and project your ability to reach financial independence or retirement. It was designed to help you simulate your financial future and run various scenarios to understand the best way to reach your goals.
ProjectionLab was founded by creator Kyle Nolan, under ProjectionLab LLC, based in Boston. The service was initially rolled out in April, 2021, and is admittedly something of a work-in-progress. But Kyle has continued to improve and update the product, both to incorporate a wider range of information and to improve the user experience.
Because ProjectionLab is new and still being developed, no third-party information is available. The company has not been rated by the Better Business Bureau or Trustpilot, and since no mobile app is yet available, there are no user ratings from either Google Play or The App Store.
But even in the absence of third-party information and ratings, my own experience shows this service to be one well worth investigating. It provides comprehensive and useful strategies and projections to help you reach your future financial goals.
Customer service is available by email only, at support@projectionlab.com.
ProjectionLab Review
How ProjectionLab Works
Setup
If you want to sample ProjectionLab, you can simply click the "Try for Free" link in the text just above the three Pricing & Subscriptions section on the main page of the website. You'll be given a choice of either a Normal Walkthrough or Sandbox Mode. Normal Walkthrough is the more detailed of the two, enabling you to fill in your own data as part of the tour.
After you click the Continue button, you'll be brought to the Setup screen, where you'll enter basic information:
The next screen will ask you the question "Which of these do you have today?" The choices will be savings, investments, real assets, and debt. You can choose whichever apply to your financial situation.
On subsequent screens, you'll be asked to fill in balances for each of the four categories. You can add multiple accounts within each category.
The investment screen will provide multiple boxes to check that will include taxable investments, various retirement plans, health savings accounts, 529 plans, and even cryptocurrencies. You can click and complete the information for any and all investment accounts that apply to your situation. Note that if you list any accounts as joint, the funds will be divided 50/50 between you and your spouse.
After completing the various financial account inputs, you'll be brought to the Dashboard page. There you'll find all the information you've entered so far.
Add Plan
Notice at the bottom left-hand side you see the Add Plan box? If you click that, you can begin adding your long-term financial plan. But don't forget to name your plan in case you want to create more than one (which is exactly what I didn't do since I'm only doing one plan).
ProjectionLab will ask you to input a plan start date, and then to "set up a few milestones". That's when you'll begin entering the ages at which you expect to retire, the end of plan (your anticipated date of death), and how large your portfolio will need to be to reach financial independence.
The latter is determined by a number multiplied times your expected monthly expenses. In the screenshot, 25 is automatically assumed. This is because multiplying 25 times your expected annual expenses will result in what's commonly referred to as the 4% safe withdrawal rate. And if you look just below that line, there's also the capability to add additional milestones.
This is the point at which you are defining the parameters in your journey toward financial independence or retirement. And of course, you can always go in and change the dates later.
In this case, we're expecting retirement at age 60, and living to age 85.
The next input screen asks you to input the anticipated growth rate of your investments, the expected dividend yield, and anticipated rate of inflation. The screen automatically populates, and I believe the numbers presented are fairly accurate. But you can change them if you like or shift over to actual historical market performance.
Notice that some of the input lines have an i next to them. By clicking that icon you'll get detailed information on how the numbers are calculated.
Income
On the next screen, you'll enter income. 10 different options are provided, and you can check each that apply.
I've entered salary, a side hustle, and for retirement, pension income and Social Security. Notice that not only does each contain the expected income, but also the start date and end date. This recognizes for example, that salary will continue from now until retirement, when pension and Social Security will take over. Side hustle is expected to continue for life.
Next is the all-important input screen, Cash-Flow Priorities. This is where you'll enter specific spending priorities, like adding to specific asset accounts for paying extra for the payoff of debts. In this case, I've chosen to add an additional $200 per month to be paid toward the student loan.
Expenses
The next screen is entitled Expenses, and this is where you list some variable expenses. There's a long list here:
Conspicuously absent from the list is your mortgage. That's because it's included when you enter your house as an asset and will already be reflected in your expenses. You can add any other expenses that apply.
You'll then come to a Real Assets screen, that will enable you to add future purchases. These include another house, a motorcycle, furniture, a car, a boat, or precious metals, among others. You can add any that apply, and ProjectionLab will calculate those into your financial future.
Income Taxes
You'll be presented with a screen that will give you a predetermined income tax and capital gains tax rates. You can accept those or make changes to percentages that more accurately reflect your tax situation.
Output
With all the above entered, we come to an output screen that's set up as a graph. Based on the input we've provided, it shows we'll reach $1,248,887 in net worth by retirement at age 60. That number will approximately remain constant until the end of life, which means we are not in danger of outliving our money.
Now, those are just the results from setting up a single plan. Not only can you change the input and assumptions and come up with new simulations, but you can also develop additional plans, and compare them. That will give you an opportunity to choose which strategy will work best for you.
Advanced Options
On the top bar of the Dashboard is the Advanced tab. If you click on that, several options will display that will include Monte Carlo Simulation, Withdrawal Strategy, Cash Flow, Compare, and Notes.
The Monte Carlo Simulation is particularly interesting, because it allows you to do up to 94 simulations, each with different input assumptions. It then provides the rate of success in each scenario. For example, it may show an 89.4 % likelihood a simulated plan will be successful, meaning you won't run out of money before the end of your life.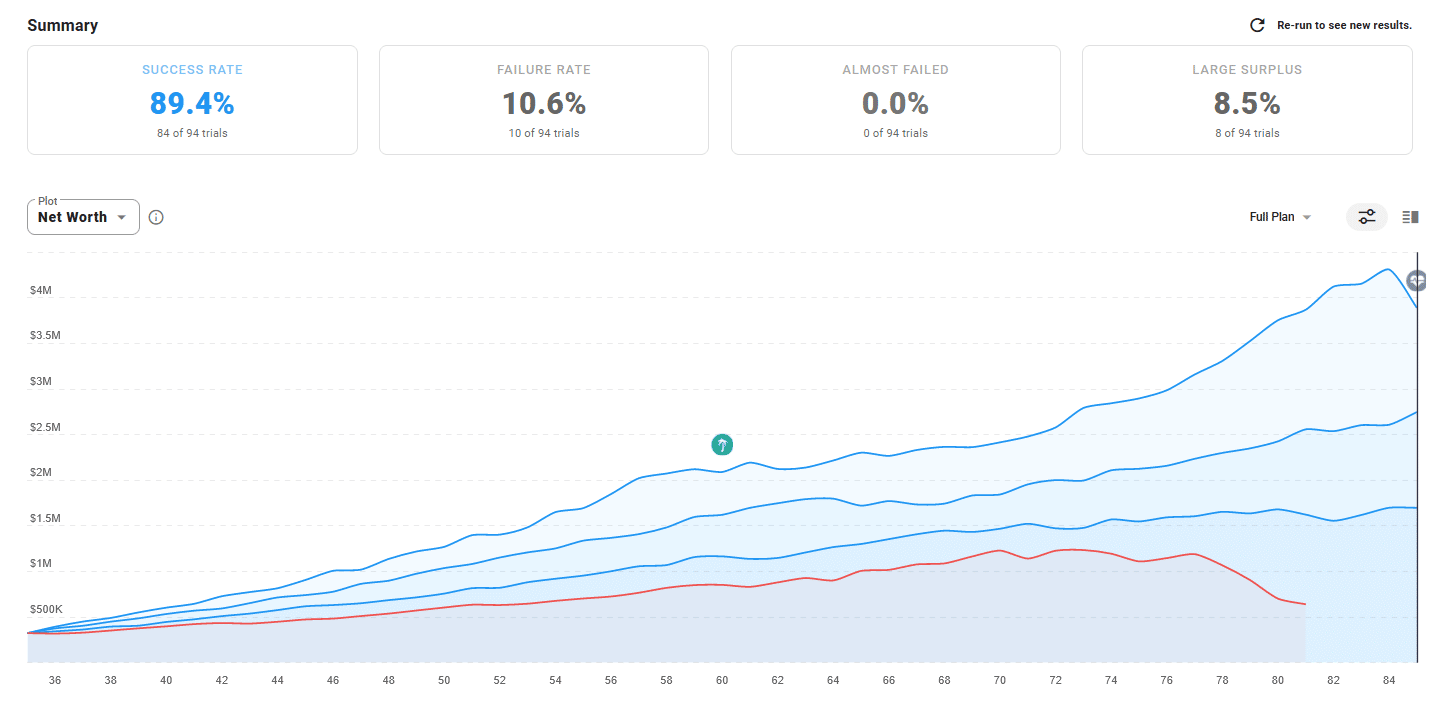 This is one of the features of ProjectionLab I find to be most attractive. It gives an opportunity to evaluate the viability of any strategy you run for the simulation, reducing it to a single percentage that makes it easy to compare with other simulations.
Also interesting is the Withdrawal Strategy. You can establish a distribution order outlining which accounts you will begin drawing funds from first. For example, you can set up a hierarchy that includes cash-on-hand first, followed by savings, cryptocurrencies, taxable investments, then finally retirement plans.
PROS
Helps project & prepare for financial independence or retirement
Flexible platform to accommodate multiple scenarios
Flexible low-cost plans + free version
No ads, no calls and no selling of your data
CONS
New service still working out the bugs
Customer support by email only
Tax analysis limited
ProjectionLab Plan Pricing & Sign Up
Plan Pricing
ProjectionLab offers three different plans, Basic, Premium and Pro. There are as many as three pricing levels for each plan. If you pay the subscription fee annually, the monthly cost works out as follows:
You can also choose a straight up monthly payment plan. For the Premium plan, the monthly fee will be $12, and $60 for the Pro plan. Be aware that the Pro plan is designed for financial advisors and coaches, who will use it for multiple client profiles. If you are only going to use ProjectionLab for your own purposes, you can use either Basic or Premium.
It's important to understand the Basic plan will enable you to create simulations, but it does not save data. You'll need to sign up for the Premium plan to save data, which makes it a logical choice between the three plans offered.
Note also that both paid versions come with a 7-day trial to give you an opportunity to try out the product. If you cancel your subscription at any time within the first seven days, your credit card on file will not be charged.
The third option is available only on the Premium plan. For a one-time payment of $450, you'll have lifetime access to the service for your own personal use. (The lifetime payment option is not available for the Pro plan.)
Sign Up
If you want to sign up with ProjectionLab you can do so directly from the website by clicking the Start Now or Start Trial buttons under one of the three plans. Once you do, you'll be asked to create an account, which you can do either by signing up with Google or with Email.
I went for the monthly Premium plan with Google, and it requested my Google email address. Next, I was asked to supply my ZIP Code.
In the very next screen, I was asked to indicate adding a credit card or PayPal, so it's clear you'll need to add a payment method to get the 7-day free trial.
Signing up for the actual service will give you the best and longest free look at the service. If you're not satisfied, you can cancel your order within seven days and your card will not be charged.
ProjectionLab Alternative
Empower is a wealth management service that also offers a free financial aggregator, where you can connect all your financial accounts in one place. And while it doesn't provide the depth of financial simulations that ProjectionLab does, it does offer its Portfolio and New Worth trackers, as well as Retirement Planner and a Retirement Savings Planner to help you reach your long-term financial goals. Again, the platform is free to use, and you'll pay only for the Wealth Management service if you choose to take advantage of it.
Final Thoughts
ProjectionLab is an excellent service to help you if your goal is retirement, early retirement, or financial independence. And since the cost is no more than $96 per year for the Premium version, it won't take a big bite out of the funds you're trying to save to help you reach your goal.
ProjectionLab is fairly numbers-intensive, and best designed for those who like to crunch a lot of numbers when it comes to finance. If this doesn't describe you, the service may be a bit overwhelming, and you may be better served using the free version of Empower as an alternative.
ProjectionLab Review Rating