Saving and investing money is a lot like eating broccoli. We know we should do it, but it's not so easy. One easy way to save money is with an automatic savings app. To help you get started, here are the best round-up apps for both savings and investing.
Best Overall Round-Up App for Savings–Chime
For those focused on building an emergency fund or other savings, Chime is my top pick for round-up apps. Why? Unlike most round-up apps, Chime pays interest on your savings.
Chime comes with a long list of features:
Get paid up to 2 days early with direct deposit*
Fee-free overdraft protection of up to $200 if you qualify
More than 60,000 free ATMs
Savings earn interest (currently 0.50% APR)
It's key feature for our purposes is automated savings. Chime automates savings in several ways.
First, it does have a round-up feature. Called "Save When You Spend," Chime will round up to the nearest dollar purchases made with its free Visa debit card. Chime then transfers the round up from your Spending Account to your Savings Account.**
Second, Chime enables customers to setup automatic savings. After each paycheck, you can have an amount of your choice automatically moved from your Spending Account to your Savings Account.
There are other things I like about Chime. It has arguably one of the best secured credit cards to help customers build their credit. It's called the Chime Credit Builder Secured Visa® Credit Card, charges no annual fee and has no required minimum security deposit.
---
Best Overall Round-Up App for Investing–Acorns
Acorns is my pick for the best overall round-up app for investing. Acorns is one of the first round-up apps with over 9 million clients. It offers both low cost investing, free checking and a free debit card. As such, it works for savings, investing or both.
After creating an account, you link the credit and debit cards you use for spending. Acorns tracks your round-ups and transfers them from your linked checking account once they reach $5.
You choose how you want Acorns to invest your round-ups. Users can select from several pre-configured portfolios, ranging from conservative (100% bonds) to aggressive (100% stocks). You can also chose among socially responsible portfolios. Acorns does the rest, making the investments for you in low cost, diversified ETFs (Exchange Traded Funds).

For savers, Acorns offers a checking account and debit card. The FDIC-insured account offers direct deposit, mobile check deposit and free nationwide ATMs. It does not, however, pay interest on its checking account.
Acorns costs just $3 a month for a personal account. The fee covers investing and checking accounts. For $5 a month, get the family plan that enables kids to start investing early.
---
Full List of Round-Up Apps
In addition to Acorns and Chime, here are several other round-up apps worth considering.
Greenlight
Best for kids and teens
Greenlight is perhaps best known for offering a debit card for kids and teens. It also offers an investing platform to teach young people the importance and power of saving and investing. With Greenlight Max, kids can invest in their favorite companies or ETFs. There are no trading fees and parents must approve all trades.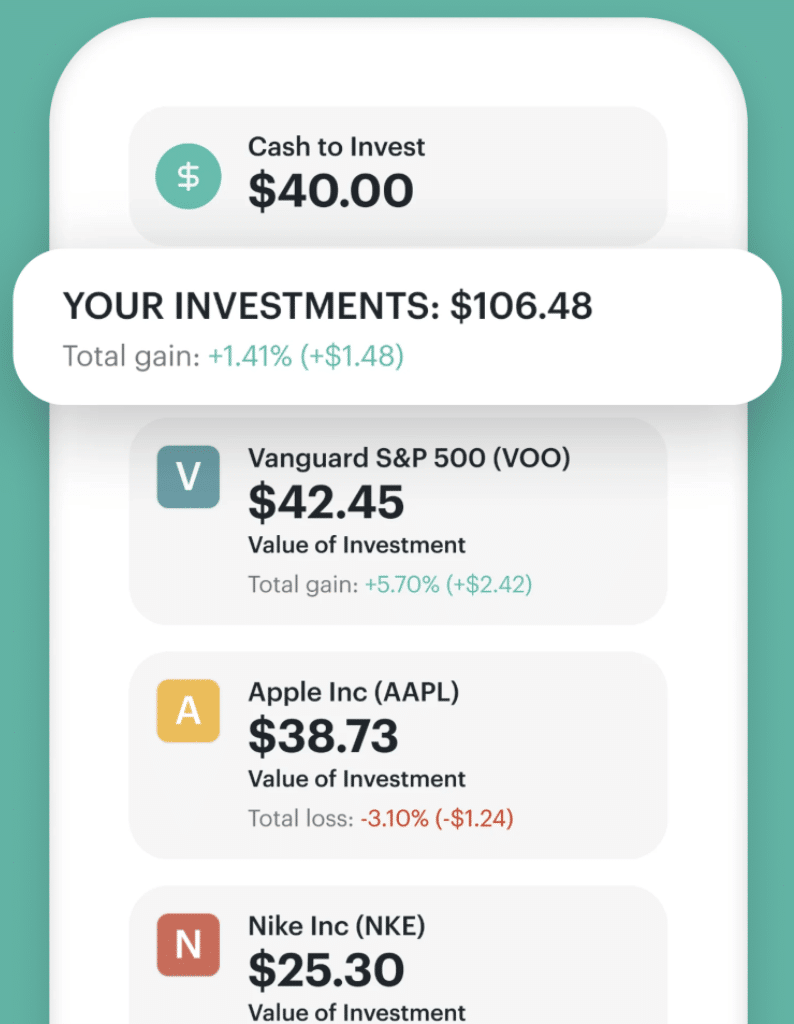 Greenlight offers several ways to encourage savings through what it calls Savings Boosts. One Savings Boost is round-ups. Transactions are rounded up to the nearest dollar and transferred to savings. Other Savings Boosts include earning 1% cash back on all purchases and up to 2% interest on their savings.
In addition to investing, Greenlight can serve as a child's bank and budgeting app. Monthly costs range from $4.99 to $9.98 a month for up to five children.
Stash
Best for investing in individual stocks
Stash is similar to Acorns. You connect debit and credit cards to a Stash account. Stash monitors transactions and rounds them up to the nearest dollar. Each time round-ups total $5, Stash transfers this amount from your linked checking account to your Stash investment account.
There are several important differences between Stash and Acorns. Where Acorns uses diversified portfolios of ETFs, Stash enables users to invest in fractional shares of individuals stocks. It has over 3,900 companies on its platform, in addition to EFTs and bonds.
For those who prefer a portfolio of ETFs, Stash offers what it calls a Smart Portfolio. Introduced in March 2021, Smart Portfolios use stock and bond ETFs to create a diversified portfolio. These portfolios are automatically rebalanced for hands-off investing.
The cost of Stash ranges from $1 to $9 a month depending on the plan. These fees are in addition to the cost of any underling ETFs.
Qapital
Best for microinvesting
While all round-up apps are a form of microinvesting, Qapital takes it to another level. In addition to round-ups, Qapital offers a number of Rules that will trigger automatic saving and investing:
Payday Divvy: This feature enables you to automate how much of your paycheck goes to spending, savings and investing.
Set and Forget: Set up automatic transfers to savings or investing every week.
Guilty Pleasure: Enjoy your morning coffee at Starbucks, but save some money at the same time. You can designate the merchants and how much you save each time you shop there.
Spend Less Rule: Set a spending limit at the grocery store and automatically save the difference between the set amount and what you typically spend.
Freelancer Rule: For 1099 workers, you can set a percentage of all deposits of $100 or more to be transferred to Qapital's FDIC-insured account for estimated taxes.
52 Week Rule: Save $1 in week one, $2 in week two, and so on, for a total of $1,378 over the course of a year.
Apple Health: Set automatic transfers to savings each time you walk, bike or run.
Money saved can be invested in one of several portfolios using low-cost ETFs:
Qapital offers three plans ranging from $3 to $12 a month.
Qoins
Best for paying down debt
With Qoins, you create either a debt or savings goal. You can also create what Qoins calls a Bundle, with both a debt payoff and savings goal. With goals set, you pick how you want money transferred toward your goal. There are several options:
Round-ups
Weekly transfers
Payday transfers
Smart Savings
Smart Savings is a feature unique to Qoins. You set how aggressively you wan to save, and Qoins' algorithm determines how much to put toward your goal. Unlike round-ups, Smart Savings doesn't require you to link a debit or credit card.
Qoins offers two plans costing $2.99 or $4.99 a month.
Other Round-Up Apps
I continue to evaluate round-up apps and will update this article based on new research. Here are other apps I'm evaluating:
Digit
Empower
MoneyLion
N26
Betterment
Worthy Bonds
Current
It's worth noting that some banks offer round-up features. Bank of America is one example. The problem is that its interest rates on savings accounts are terrible.
How Round-Ups Work
Round-up apps bring the concept of a change jar into the digital world. When cash was king, it was common to have a change jar in the house. Each day when you got home, you took the change out of your pocket and put it in the jar. It wasn't a lot of money, so it didn't crush the budget. And while each deposit into the jar didn't amount to much, over time it grew into some serious cash.
Round-up apps take the same concept and apply it in the world of electronic payments. You connect your checking account and credit cards to the round-up app. The app then keeps track of your transactions and the round-up amount. For example, if you spend $3.74 at a coffee shop, the app adds $0.26 to your round-up balance.
Once your round-ups reach a threshold (typically $10), the app transfers the amount from your checking account to either a savings or investment account. As such, round-ups are one form of microinvesting.
The Psychology Behind Automatic Savings
There are several psychological "tricks" that make round-up apps so effective. First, they require just one easy decision. Once you turn on the round-up feature, it continues to work without any additional effort on your part. This simple decision makes it easy to overcome the status quo bias. And once overcome, the round-ups become the status quo.
Second, they are automatic. The round-ups don't require us to make decisions each day, week or month. They happen behind the scenes, even if we forgot all about them.
Finally, round-ups involve relatively small amounts of money. Trying to save hundreds of dollars a month might feel daunting. Saving our spare change every day, on the other hand, is less intimidating even if it adds up over time.
Can Round-Ups Really Make a Difference?
Yes. In fact, one study found that saving even $100 had a profound effect on financial well-being. And with the power of compounding, even small amounts of money saved over time can grow into significant wealth. For example, investing just $50 a month over a working career can grow into more than $400,000 at a 10% return.
Of course, returns aren't guaranteed and a working career can last 40 or 50 years. At the same time, $50 a month is not exactly a flood of money. It's a start. Continue to increase your savings and your wealth will continue to compound over time. In the end, compounding will generate for more wealth than the amounts you actually save.
Round-Up FAQs
What is the best round-up app for saving money?
Chime takes the top slot for saving money. It's combination of an excellent app, fees and interest rate earn it the top spot.
What is the best round-up app for kids?
To help your kids or teens save money, Greenlight is the best option. It's designed for kids, gives parents control features, and offers automated savings including round-ups.
---
What to learn more about money and investing? Signup for me free weekly newsletter.
*Early access to direct deposit funds depends on the timing of the submission of the payment file from the payer. We generally make these funds available on the day the payment file is received, which may be up to 2 days earlier than the scheduled payment date.
**Round Ups automatically round up debit card purchases to the nearest dollar and transfers the round up from your Chime Spending Account to into your savings account. Save When I Get Paid
automatically transfers 10% of your direct deposits of $500 or more from your Spending Account into your savings account.