Retirement calculators can help us plan and prepare to retire. When we are years away, these online tools can help us determine how much we should be saving. As we approach our time to retire, they can help us understand how much we can spend each year and which accounts should fund that spending.
Not all retirement tools, however, reach the same result. They take different approaches to what is a complex series of calculations and assumptions. One study examined five popular retirement planning software packages and found stark differences in outcomes. As a result, it recommended that individuals use "multiple programs before implementing an action plan based on the results."
To that end, here is a list of the best retirement calculators, planners and software tools.
Editor's Top Picks
Of all the retirement planners available today, two stand out among the rest:
Empower–Previously called Personal Capital, it's both free and comes with a robust set of features. Its retirement planner enables you to model everything from social security to pensions to one-time income (e.g., inheritance) and expenses (e.g., home renovation) during retirement. You can create multiple scenarios and run Monte Carlo simulations to see your chance of financial success (i.e., not running out of money).
New Retirement–This tool allows you to model virtually every aspect of retirement. It projects future income, expenses and net worth. You can set income and expenses on a monthly, yearly or one-off basis. It can model social security, pensions and even Roth IRA conversions. There is an annual fee, although New Retirement does offer a free trial.
Best Retirement Calculators
What follows are my top 5 picks. The first three are retirement planners, allowing you to enter detailed information about your finances both before and after retirement. The final two options are more of retirement calculators. The inputs are much more limited, but these tools give you a quick estimate of when you can retire.
1. Empower
Best all around retirement planner
Empower is my favorite investing and retirement tool. In addition to being totally free, it's extremely easy to use and rich in features. Once a user connects their 401k, IRA, and other investment accounts, Empower pulls all the data from the accounts into its Retirement Planner.
The Retirement Planner then allows users to model both income events (e.g., savings, sale of real estate, social security, pensions) and spending goals (e.g., retirement spending, travel, education). Users can also set up multiple scenarios to compare, such as retiring at different ages. Empower then runs the data through a Monte Carlo simulation and reports the likelihood of the plan's success.
Unique Feature: Users can create multiple scenarios (e.g., different retirement dates, different social security strategies) and compare how successful each will be.
---
2. New Retirement
Most detailed retirement analysis
New Retirement is not for the faint of heart. The tool, which has both a free and paid version, enables users to model just about every aspect of retirement. For example, users can model social security claiming strategies, medicare coverage, annuities and pensions.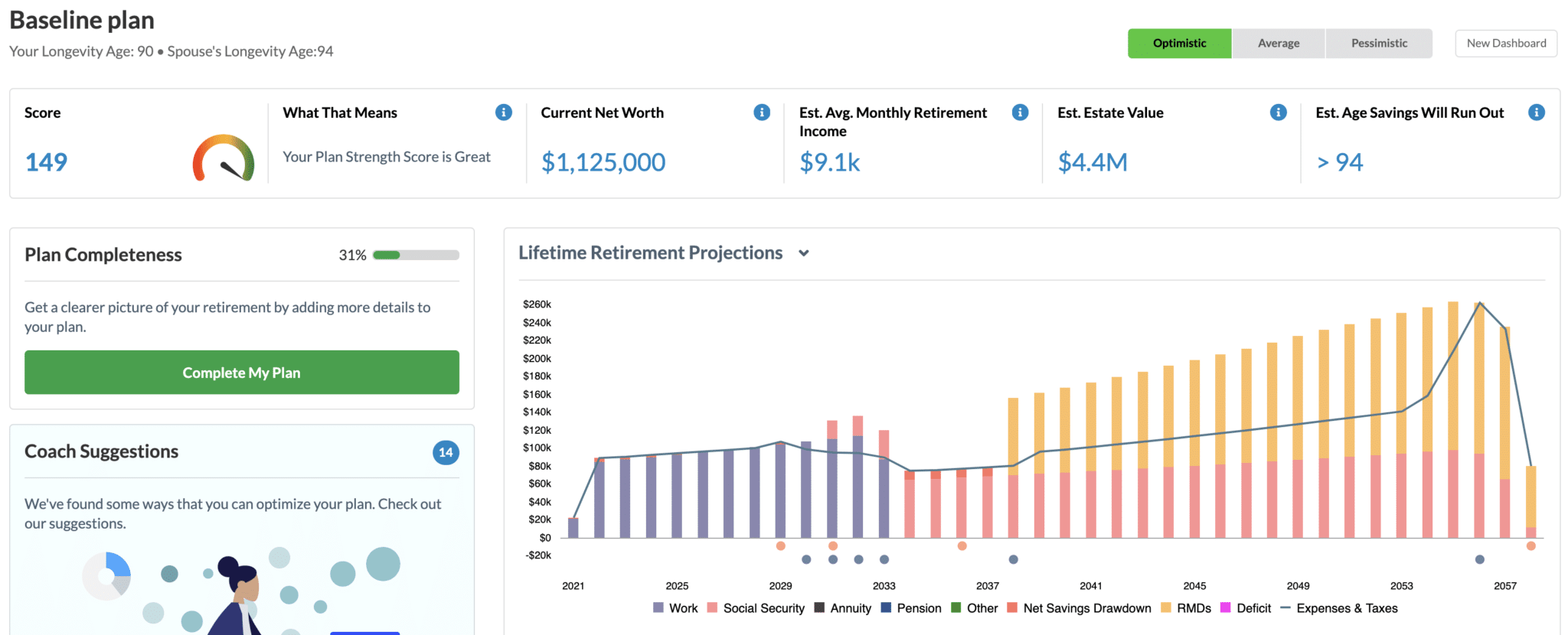 New Retirement handles the complexity of retirement planning in two ways. First, users can follow a quick start guide, answer a few simple questions, and have a complete snapshot of their retirement readiness in under five minutes.
Following that, users can dive into the details of everything from future healthcare costs to retirement savings contributions. New Retirement enables users to link investment and retirement accounts or enter them manually.
New Retirement offers three plans ranging in cost from free to $396 a year.
Unique Feature: New Retirement includes a Roth IRA conversion calculator to help users determine when and how much of a traditional IRA should be converted to a Roth IRA.
---
3. OnTrajectory
OnTrajectory is quickly becoming one of my favorite retirement planners. Like New Retirement, it allows you to map out just about everything related to both saving for retirement and spending during your golden years.
It takes just seconds to get started. You'll answer a few questions, and OnTrajectory will set up a projection of your future savings and spending. From there you can begin to enter data to fine tune every aspect of the plan.
The tool is divided into three sections–Income, Expenses and Accounts. You can link your accounts so they automatically update, or you can enter balances manually. For income, the tool accommodates everything from work to pensions to rental properties. Expenses include every type of expense imaginable, and you can group expenses to make reporting easier.
As for accounts, you can link or manually create 401k, IRA, HSA and taxable accounts. It covers 457B plans (which have specially rules), as well as 529 plans and both traditional and Roth accounts.
Once you've entered the data, OnTrajectory uses both Monte Carlo Analysis as well as historical market returns and inflation data to calculate the chances of retirement success. Finally, you can create and compare multiple retirement scenarios.
Unique Feature: You can change the order of accounts withdrawals are taken during retirement or let OnTrajectory calculate the most tax efficient order.
---
4. NetWorthify
NetWorthify is designed for those wanting to retire early, although it works with traditional retirements, too. Simply enter your income, annual savings and total savings, and NetWorthify estimates how long until you can retire. It's free to use.

5. cFIREsim
Another free option that I like a lot is cFIREsim. You enter some basic information such as when you plan to retire, current savings, income, asset allocation of your investments and social security values. cFIREsim then calculates the likelihood of your success.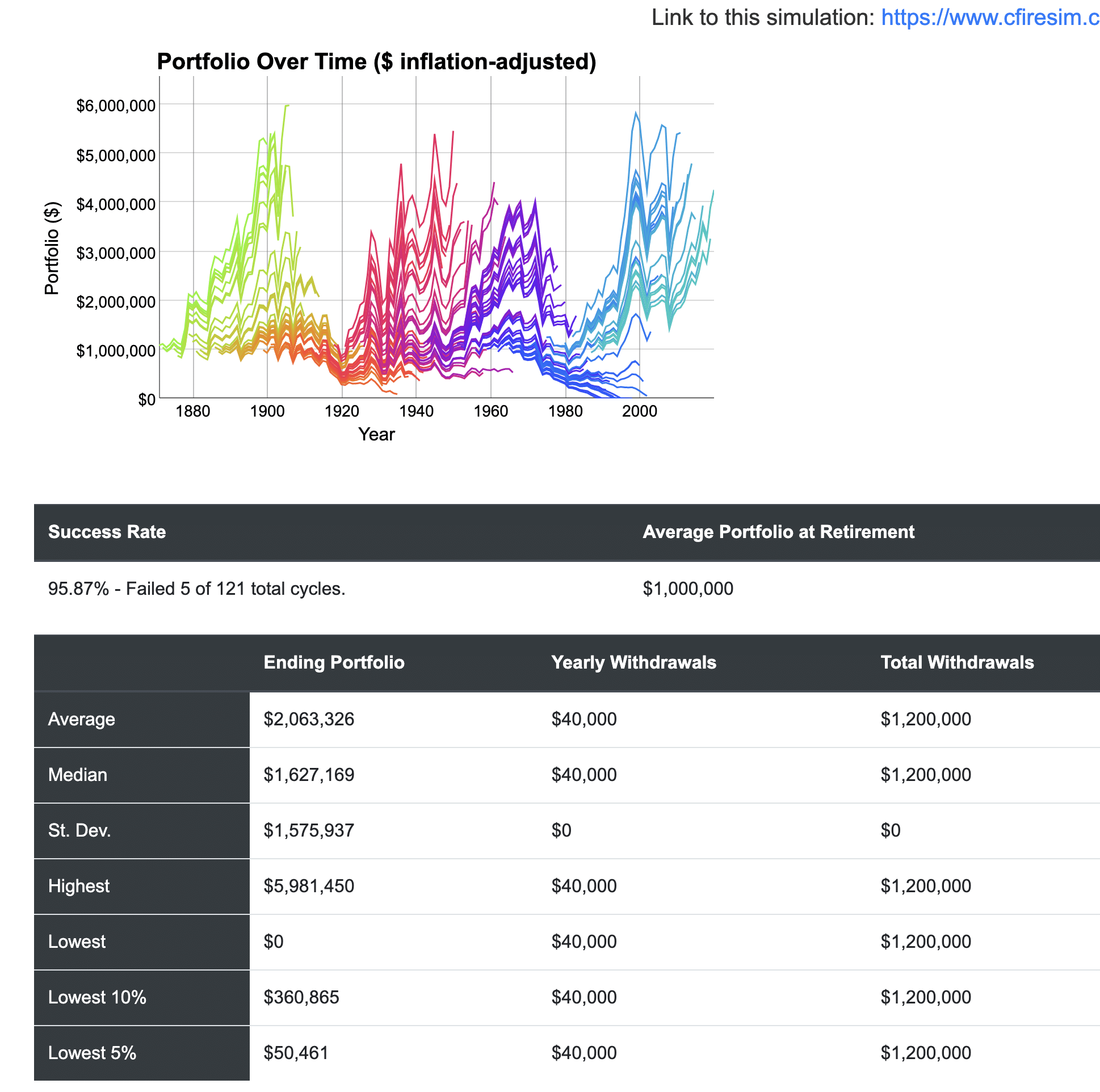 Retirement Calculators Worth Considering
The following retirement tools didn't make are list, but still may be worth checking out. In some cases, I'm continuing to evaluate them, and some make make the "best of" list in the future.
Retirement Calculators Not Worth Considering
Here are retirement tools that I believe aren't worth our time. I list them here to keep a record of what I've looked at and so that readers know I've considered and rejected these options.