Mint was one of the first free online budgeting apps when it launched in 2007. Intuit purchased Mint in 2009, and today many users are looking to replace Mint with a different personal finance app. Here are the 7 best Mint alternatives worth considering.
Top Mint.com Alternative Picks
Of all the options out there to replace Mint, three stand out among the rest:
Best Alternatives to Mint Budget Tracker
1. Personal Capital–Best Overall Alternative to Mint.com
Personal Capital can easily replace Mint. Like Mint it's free, and it offers far more tools to keep track of your finances and analyze your investments. You can link just about any financial account to Personal Capital's app. Once linked, the dashboard gives you a complete snapshot of your money.
Beyond a high level view, Personal Capital offers a number of useful features:
Track spending by category or account
Plan your retirement with the Retirement Planner
Understand how investment fees erode your wealth
Monitor your portfolio's asset allocation
Track your net worth
Get alerts when bills are due
Save for emergencies
New: Track Bitcoin, Ethereum, Litecoin and thousands of other tokens without giving access to your crypto wallet
I've written a detailed review and guide of Personal Capital that you can check out.
2. Tiller Money–Best for those who love spreadsheets
For those focused primarily on budgeting, Tiller Money is the best Mint alternative on our list. Along with Personal Capital, I use Tiller every single day. There is, however, a bit of a learning curve. But once you understand how it works, it's a breeze to use.
In short, Tiller enables you to connect your bank accounts, credit cards and even investment accounts to a Google Sheet (or Excel). It then gives you templates and tools to do everything from create a budget to track your spending to save for retirement.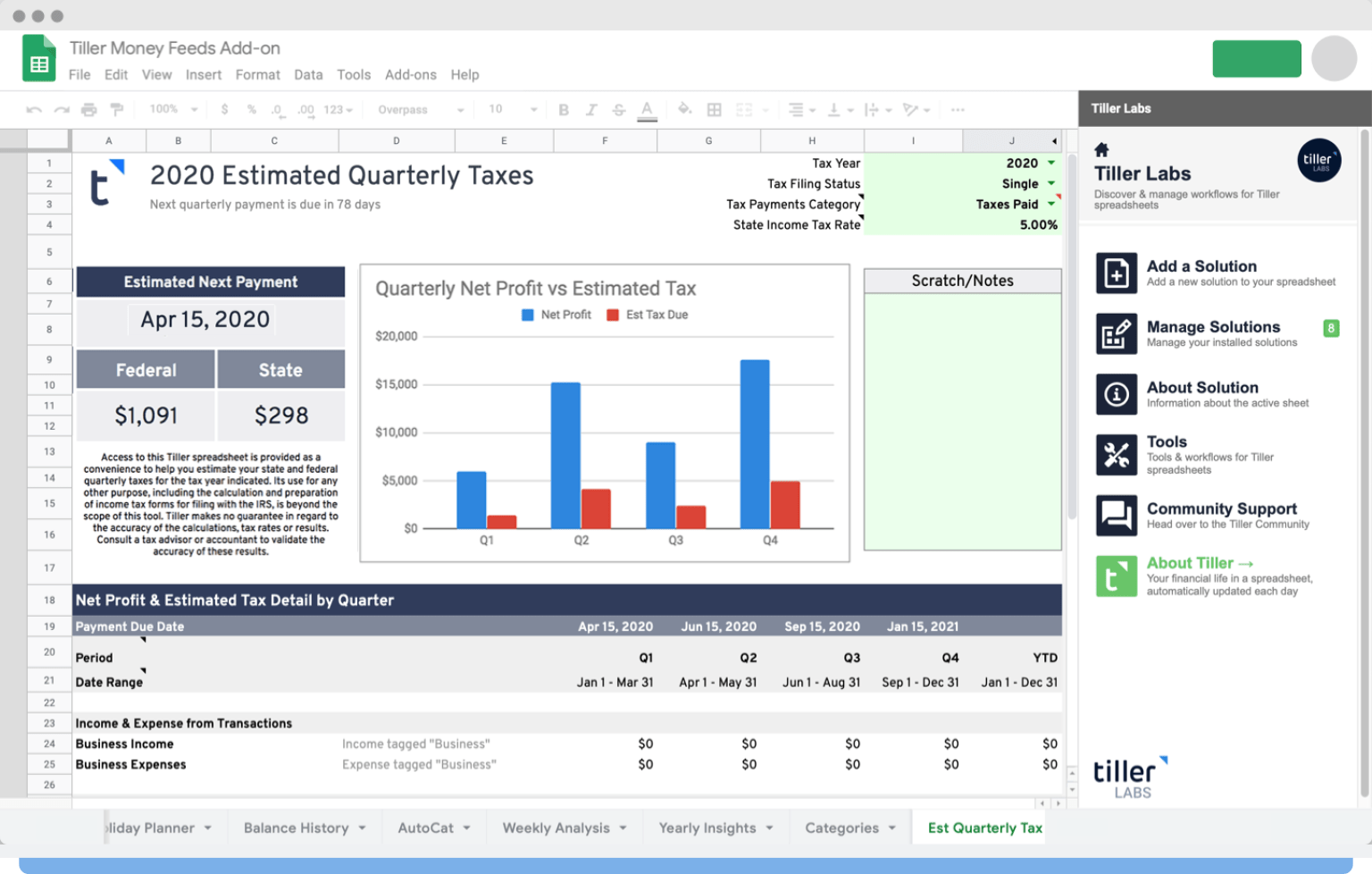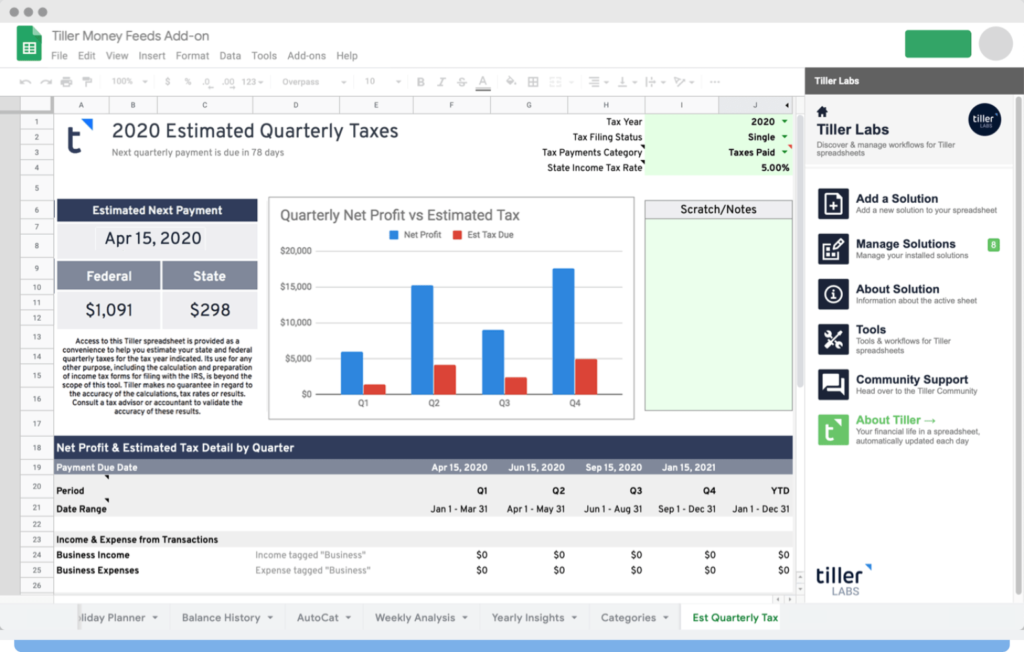 The more I use Tiller the more I appreciate the simplicity and ease of use. If you like spreadsheets, you'll like Tiller. To get an idea of how it works, check out this video I created.
Some of Tiller's features include:
Track all your accounts in one place
Make a budget, track spending
Track your net worth with flexible, automated dashboards
Create your own category rules so every expense is automatically categorized accurately
Use flexible templates for budgeting and retirement planning
Works with 2FA (2-Factor Authentication)
You get a 30-day free trial. After that Tiller costs $79 a year.
3. CountAbout–Best for converting data from Mint
If you have a lot of data in Mint, CountAbout may be the budgeting tool for you. It has a feature enabling you to import data from Mint. In fact, you can import your entire Mint history into CountAbout.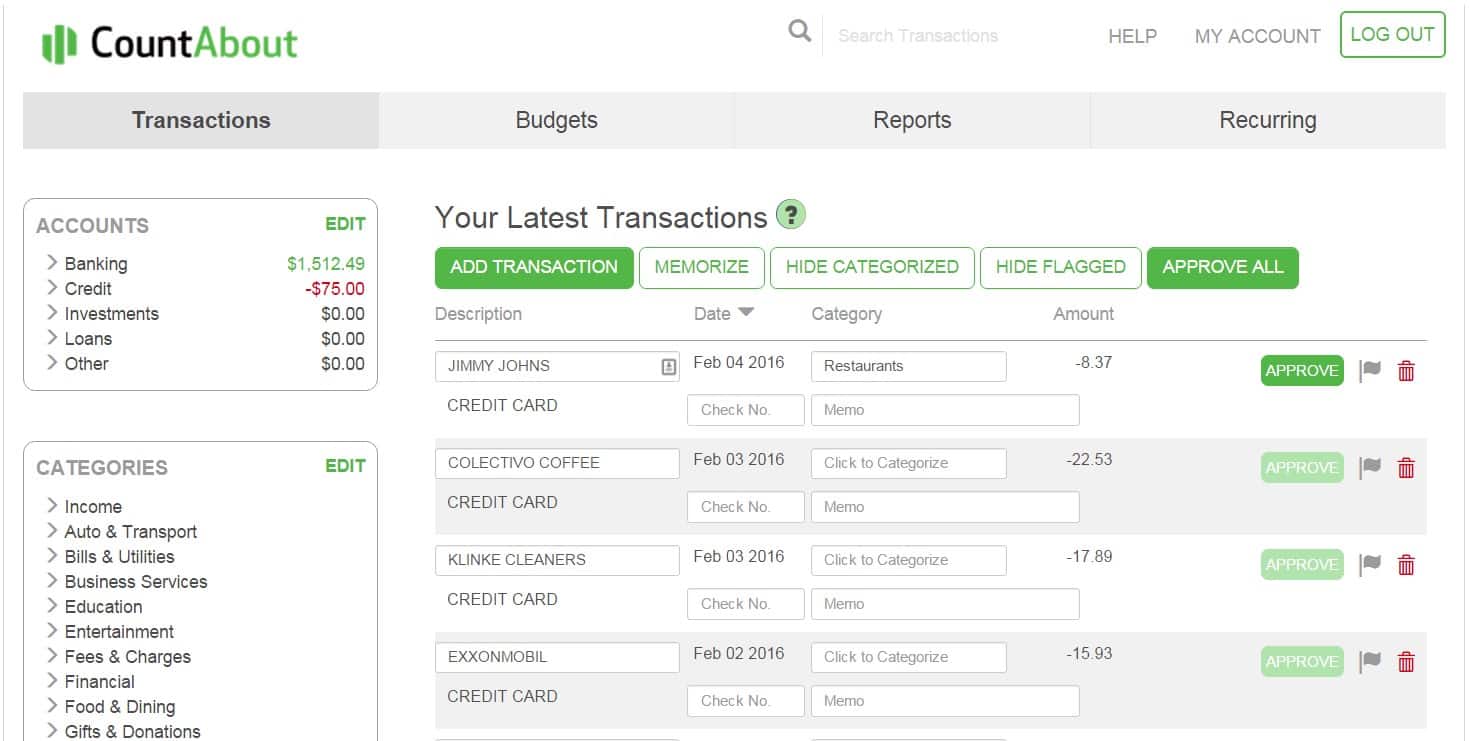 Unlike Mint, CountAbout doesn't pummel you with advertisements. It does enable you to download transactions from your bank and customize both income and expense categories. You can save receipt images and attach them to the appropriate expense if record keeping is important.
Key features of CountAbout include:
Import from Quicken or Mint.com
Automate Transaction Downloads
Fully customizable income and spending categories and tags
Invoicing for small businesses
Attachment capability for receipts and images
Recurring transactions
Graphical and text-based "widgets" provide quick view of financial activity
Easy to use on web and iOS/Android apps
For the features you get, the cost is very reasonable. The basic plan costs just $9.99 a year (not a month). If you want automatic downloading of bank transactions, the cost is $39.99 a year.
4. Simplifi–Best budgeting app for smartphones
Simplifi is Quicken's version of a mobile budgeting app. It's not a mobile app for Quicken. It's a new app built from the ground up. It uses automation to help you better manage your money.
For example, Simplifi can create a spending plan for you by analyzing your income and expenses. You can identify recurring expenses and subscriptions, which Simplifi then incorporates into the plan. It also includes a calendar view showing you upcoming expenses.
Key features of Simplifi include:
See your banking, credit card, loans and investments all in one place
Have your transactions automatically categorized
Find and track recurring bills and subscriptions so you can cancel what you no longer use
View upcoming bills, income, transfers, and see how they affect your balances
Set up custom watchlists and limits by category, payee, or tags to help stay on track
Set up savings goals for every milestone you are trying to reach
Track refunds on returned items
You can try Simplifi free for 30-days, then the cost is as low as $2.99 a month.
5. You Need a Budget (YNAB)–Best for budgeting
YNAB is ideal for those looking just for a budgeting tool. YNAB's interface is similar to a spreadsheet. The tool makes it easy to budget by category based on the money you actually have in the bank. It's not useful as an investment tracking app, however.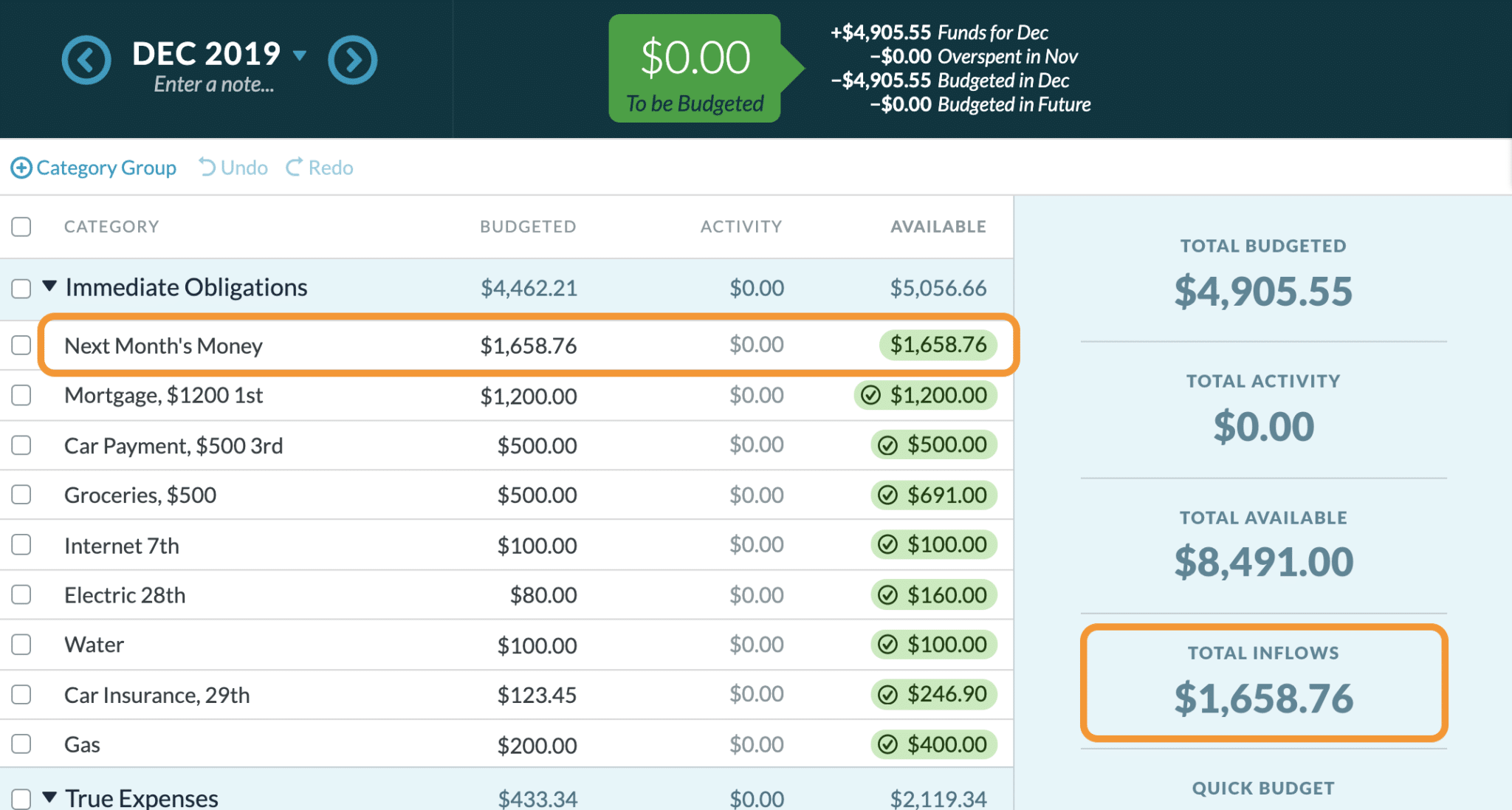 YNAB's key features include:
Access to real-time information, from any device, anytime
Track goals
Excellent charts and graphs
It's not free, however. You can try it free for 34 days. After that it costs $11.99 a month or $84 a year for the annual plan. The cost is the biggest downside to YNAB.
6. PocketSmith
PocketSmith started out as a calendar to plan upcoming income and expenses. Today, it's a full-fledged budgeting app. You can sync your accounts with PocketSmith. Once synced, you can track your budget and you're net worth. You can also see your income and spending in a handy calendar view.
Key features of Pocketsmith include:
Manage multiple income streams
Forecast your cashflow, including tools to help you reach FIRE (financial independence, retire early)
Track Airbnb earnings
Create and track savings goals
Integrates with Xero
Multi-currency
7. Fidelity Full View
Fidelity's Full View is powered by eMoneyAdvisor, a tool used by financial planners. While Fidelity's Full View doesn't come with all of eMoneyAdvisor's features, it's still a robust tool, free, and available even if you don't have an account at Fidelity.
Fidelity Full View includes the following features:
Consolidate accounts in one place
Track your net worth over time
Create and manage a budget
View transactions
Integrates with Fidelity's planning tools
Other Mint Replacement Options
I'm regularly evaluating new financial tools. As I do, I'll add them to this list to help those looking to leave Mint. Here are some of the options I'm evaluating:
Every Dollar: The Dave Ramsey budgeting solution. While Dave is popular with those paying off debt, this solution is one of the most expensive and it doesn't have near the features that a tool like Personal Capital offers.
Banktivity: One of the few budgeting apps designed for the Mac, Banktivity is another option. One question to consider though is whether an iOS specific software is necessary today. Everything is online or in an app.
Unifimoney: This app is designed for high earning professionals. It combines money management tools with saving, spending and investing services.
Why Switch from Mint?
Mint continues to offer a free, solid budgeting app. There are, however, several reasons to consider an alternative.
The first is its limited investing tools. While you can track your investments in Mint, the many of the options here offer far better investing tools. Personal Capital, for example, shows a portfolio's asset allocation, investment fees, and retirement readiness.
Second, Mint uses an advertising revenue model. The result is a user experience plastered with ads.
Mythodology
My first step in evaluating Mint alternatives was to use dozens of budgeting and investment tracking apps. I've used each of the tools in our list extensively, with the exception of Pocketsmith and CountAbout (I'm working on those two now). I've also undertaken indepth research into these and more than 25 other options.
In evaluating these apps, I focused on the following key criteria:
Cost
Ease of use
Mobile app availability
Ability to consolidate all accounts in one place
Budgeting tools
Investment tracking tools
Mint Alternatives FAQs
What is the best free alternative to Mint?
Personal Capital is the best free Mint replacement. It comes with nearly every feature Mint offers, and many additional tools. It's particularly well suited for those who want to manage all of their money in one place, including investments.
What is the best option to migrate Mint data to new app?
If you want to migrate Mint data to a new budgeting app, CountAbout is a solid option. It has features enabling users to migrate data from Mint.
What is the best Mint replacement for calendar budgeting?
PocketSmith is a good choice as it offers a calendar view of your budget.
Which Mint alternatives allow you to schedule bill payments?
With both Tiller Money and YNAB, you can plan future bill payments. Tiller offers a Bill Payment Tracker template and YNAB enables you to allocate funds to bills you plan to pay in the future.
Should I switch from Mint.com?
Mint continues to offer a solid budgeting and investment tracking app. Some, however, have complained about issues connecting Mint to banks and other financial institutions. It also uses an advertising revenue model, so users are inundated with ads.
Whatever tool you choose, the key is to pick one that works for you. For me, that's Personal Capital. One or more of the above Mint alternatives, however, should suit the needs of most looking to better manage their money.