Personal Capital and Mint are two of the most popular personal finance apps today. I've used both for many years. In this article we'll compare Mint vs Personal Capital to see which one is best.
As is often the case, both Personal Capital and Mint have pros and cons. In some cases Personal Capital is the best option. In other cases Mint is the better choice. And because both are free, there's even an argument to be made for using both. So let's dive in.
Update
Personal Capital is now called Empower, and the free tool is now called the Empower Personal Dashboard. Nothing about the tool has changed, and it's still free.
Overview of Personal Capital (Empower) and Mint
Both Mint and Empower are online tools designed to help us manage our money. They both enable users to connect their financial accounts for automatic download of transactions and balances. And they are both free.
Personal Capital (Empower)
Personal Capital is owned by Empower Retirement, which itself administers more than $1.2 trillion in assets through retirement accounts. Personal Capital (Empower) is a registered investment advisor in the business of managing investors' portfolios. For our purposes, we will focus on the free financial tool that if offers, regardless of whether or not you use its investment management services.
The Empower Personal Dashboard enables you to link your financial accounts. You can link bank accounts (checking, savings, money market accounts and CDs), credit cards, student loans, mortgages, car loans, retirement accounts (e.g., 401(k) and IRAs), taxable investment accounts, crypto coins and tokens, and real estate.
Once linked, Empower provides a wealth of tools to monitor, manage and analyze your money. A glimpse of its dashboard reveals the power of this tool: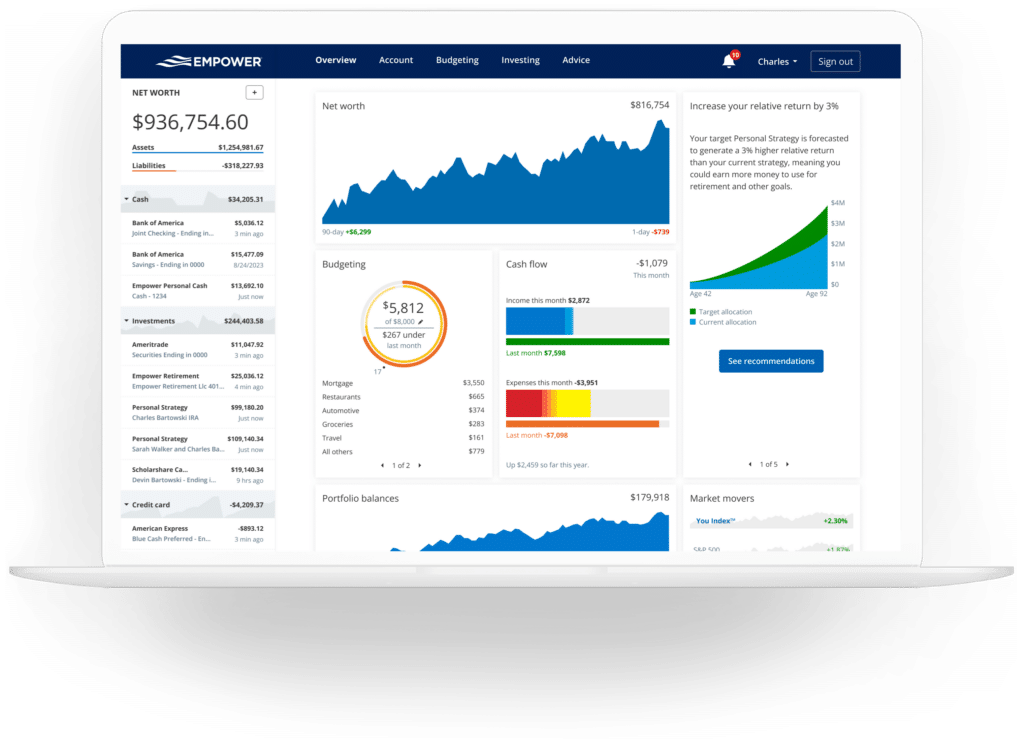 Beyond the dashboard, Empower offers the following features:
Track income and spending by category
Track your net worth
Evaluate the asset allocation of your investments
Evaluate your investment fees
Calculate whether you can retire
Plan your retirement with multiple scenarios
Track upcoming bills
Have Empower analyze your portfolio and make suggestions
Of all of these features, those related to investments are Empower's strongest features.
Mint
Aaron Patzer founded Mint more than a decade ago, and Intuit purchased it for $170 million in 2009. Mint was the first personal finance app to aggregate a user's accounts all in one place. While that's commonplace today, it was unprecedented 15 years ago.
As with Empower, users can link virtually all of their financial accounts to Mint. Once linked, Mint provides tools to manage and evaluate your finances. Some of its key features include:
Budgeting by category
Create savings goals
Create goals to get out of debt
Check and monitor your credit score
Track your investments
Track upcoming bills
Of all of these features, those related to budgeting and goal setting are Mint's strongest features.
Empower vs Mint Comparison
Similarities
Both Empower and Mint share a number of similarities:
Account Connections: Both enable users to connect to just about any financial institution with an online login. You'll need to provide your username and password to create the connect, but both sites uses strong security features to keep user's data protected. And at no time can either company control the money in any of a user's accounts.
Financial Dashboard: Both apps offer a financial dashboard where user's can get a high level view of their investments. Empower's dashboard shows your net worth, budget, cash flow, investment portfolio balance, retirement savings and emergency fund. Mint's dashboard shows your upcoming bills, any goals you've created, spending, your credit score, monthly budget and investments.
Cost: Both apps are free, although as described below, the way they each make money is different and does affect the user experience.
Budgeting: Both apps offer budgeting tools to track your income and expenses. As noted below, however, Mint's budgeting features are more robust.
Investing. Both apps offer tools to track your investments. As noted below, however, Empower's investing features are more robust.
Connecting Accounts: Both Empower and Mint enable you to connect your financial accounts to the app. While this feature is similar with both services, I've found Empower's connection to more reliable. There are still some accounts I cannot connect to Mint no matter how often I try.
Bill Tracking: Both apps track your monthly bills and alert you when they are due.
Mobile Apps: In addition to their websites, both offer apps for smartphones, tables, and Apple watch.
Differences
Here are the key differences between Mint and Empower:
Investing Tools: While both apps offer tools to track your investments, Empower is by far the better option. There are several critical features it offers that Mint does not. First, it can show you details of your asset allocation, down to the specific stocks of fund you own. It automatically calculates your investment expenses and how those fees will eat away at your wealth over time. And it can analyze your portfolio and make recommendations based on your risk tolerance.
Budgeting Tools: When it comes to budgeting, Mint is the winner. Empower will track your expenses, categorize them, and present spending data with useful graphs. What it doesn't do, that Mint does, is allow you to create a budget with spending goals by category. Having said that, if budgeting is your primary focus, there are better options than Mint.
Goals: Here Mint is the better option. You can create savings goals or a goal to get out of debt. Mint offers tools to determine how much extra, if any, you should pay toward your debt or savings goal. It also tracks your progress. Empower doesn't offer this feature.
Retirement Planning: Empower offers a robust retirement planner. Using Monte Carlo simulation, it can estimate your retirement readiness. You can plan for income (e.g., social security or a pension) during retirement and expenses (e.g., monthly expenses, vacation, home purchase). You can also create multiple retirement scenarios and run them against each other. Mint doesn't offer this feature.
Credit Score: You can monitor your credit score through Mint. Empower doesn't offer this feature.
Who is Personal Capital (Empower) Best For
Without question Empower is best for those with investments. It can track retirement accounts (e.g., 401(k), 403(b), TSP) as well as taxable accounts and even HSAs. Earlier this year it also adding support to track crypto prices.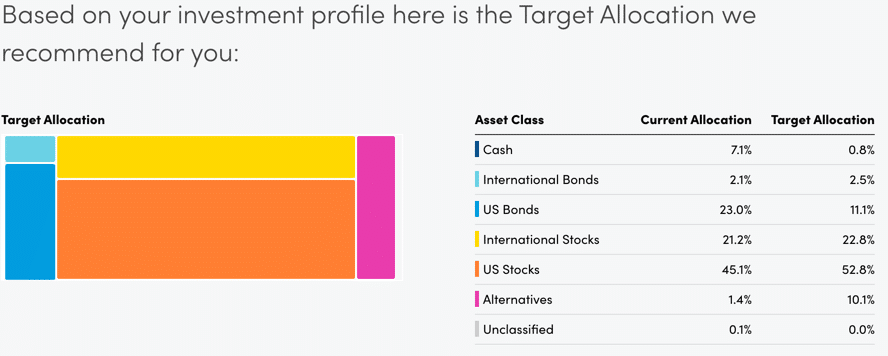 Once tracked, it offers some of the best tools available to retail investors. You can drill down into the details of your asset allocation across all of your investment accounts. It offers an excellent fee analyzer to evaluate your investing costs and their effect on your wealth over time. And its retirement planner is one of the best available today.
Unlike Mint, Empower could serve as the only financial tool you use. While it doesn't offer some of the budgeting features Mint does, its cash flow tracking and automatic categorization of expenses have been more than sufficient for our purposes.
Who is Mint Best For
Mint is a better option for those with little or no investments who want to manage their budget. Mint's lack of investment tools is not an issue if you have no investments. And Mint's budget tools, including its savings and debt payment goals, are more robust than what Empower offers.
One might also add Mint's ability to track your credit score. I find this feature less compelling. Today you can track your credit score through just about any credit card you have as well as many other financial institutions.
Should You Use Both Empower and Mint?
Because both apps are free, many people do use both. One could use Empower to track investments, while using Mint for budgeting. The downside is that it does require you to log into two different apps to manage all of your finances. So while it is one option, sticking to one app or the other if possible is ideal.
Can Empower or Mint Track Bitcoin and Other Crypto?
Empower can track Bitcoin, Ethereum, and other crypto coins and tokens. It can track meta tokens such as SAND and MANA, as well. That said, Mint allows you to connect your Coinbase, Coinbase Pro, Gemini or BlockFI accounts, while Empower does not. Instead, with Empower you create a manual account and add your Crypto and balances.
How do Empower and Mint Make Money?
While both apps are free, it's important to understand how they each make money. Their revenue models have a direct affect on your use of each tool.
Empower makes money from those users who decide to use their wealth management services. As a result, they do require your mobile number as part of the signup process and they will call you. They offer to run a free analysis of your investment portfolio and how they believe their services can help you.
You are not required to accept this free analysis or use them to manage your investments. Either way, you can continue to use Empower's financial tool for free.
In contrast, Mint uses an advertising model. As a result, you will be presented with targeted offers for bank accounts, credit cards and investment accounts. The integrate these offers into the user invoice, so it's impossible to avoid them.
In either case, I find these revenue models to be benign and well worth the free tools.
Final Thoughts
For me, Empower is better than Mint because of its investment tools. Further, its budgeting tools are more than sufficient for our needs. For those just starting out and with minimal investments, however, Mint may be the better option.